Happy New Year, everyone!  "Native Gratitude" opens my Songs from the Silo album. It is a song I wrote and decided to record in this very silo, on the farm of Amy & Allen Koble near Drake, ND. This silo, only 6 miles from my family farm, is an exact replica of the one that I started singing in around 3 years old.
Greg Eiden, Silo Recording Engineer. Co-Produced with Adi Yeshaya. Mixed and Mastered by Tony Axtell at Axtell Production. Video directed by Andrew Rasmussen.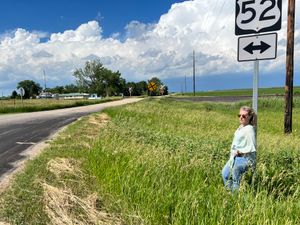 I wrote "Fabulous" as an anthem to the Girls Night outings I was missing during the pandemic, and asked Ginny Luke & Aaron Gabriel to collaborate with me to complete the sound I had in my head.
For the video, I knew I wanted to bring out ALL my wigs and fun costumes I've collected over the years, and the '66 Chevy Impala SS convertible put this video over the top!
Moral of the story: everyone has the right to feel FABULOUS!! 😘💖  And don't take yourself so damn seriously, m'kay?💞🤗.
This video was videotaped in Sheridan County, North Dakota (yes, I'm named after the county) on my family's pasture land and was one of the inspirations for my Songs from the Silo album & this song, written for me by Ann Hampton Callaway. This pasture land has never been broken due to large rocks and hills. Because of proximity to the lake, it's where my father found a number of native artifacts like arrowheads and stone hammerheads. I remember my Dad being very reverent about these historical pieces, respecting those who had been there before us. Our farmyard is in the background when the camera pans to the north/east. You'll see the vibrant colors of early July with bright yellow canola fields and green wheat fields against the beauty of a NoDak sunset. 
"Fun" Fact: my director Andrew Rasmussen & I both fell in a number of fox holes during this shoot (thankfully no injuries!), and each of us pulled off about 30 ticks that night! 
After I saw my friend's beautiful open-slat barn just north of Hudson, Wisconsin, I knew this space had to be used to tell the visual story of this song. The day we shot this was unusually warm for September and the barn was at least 90 degrees inside, the air dripping with humidity. But the space was spectacular at sunset and every bit as magical as it looks. This song is from the 1979 "The Muppet Movie" and I knew the album top to bottom, singing this in the silo when I was a child. It brings me warm memories of my grandparents, my folks, old family friends, and my dear mentor & jazz/bebop alto sax legend Richie Cole, who passed unexpectedly in 2020. I hope it brings you the warm-fuzzies too! ❣️
Aaron Gabriel wrote "Leave Too Soon" for me after hearing my stories of growing up in a small town. Friends since we shared a dressing room 20 years ago, Aaron is a small town Minnesota kid himself and we commiserated on the complexities of small-town life. The video is shot on our farm and in/around the towns of Martin and Harvey, ND where I went to school and worked my first paid job as radio announcer for KHND AM Radio at the age of 15. I worked at KHND 'til I left to study opera at U.Missouri-Kansas City. Thanks to my dear Dad, my 1957 Chevy BelAir is featured in the video... the '57 was my folks' GPS for me before such devices were invented... EVERYONE knew where Donnie Zuther's daughter was when they saw that car! The Old Wooden Bridge has always been a special place out in the country, a place that is literally found by landmarks, not marked roads, for parties, tomfoolery, and reflection. It is a magical place on summer nights, where fire flies light up the grassy banks and you get an endorphin-rush as trains chug underneath spaced planks. 
Fun Fact: my folks call this the "Highway 52" song. Highway 52 is a 2-lane highway that runs NW-SE through the center of North Dakota; it leads to wherever you need to go and has many small towns along its route.