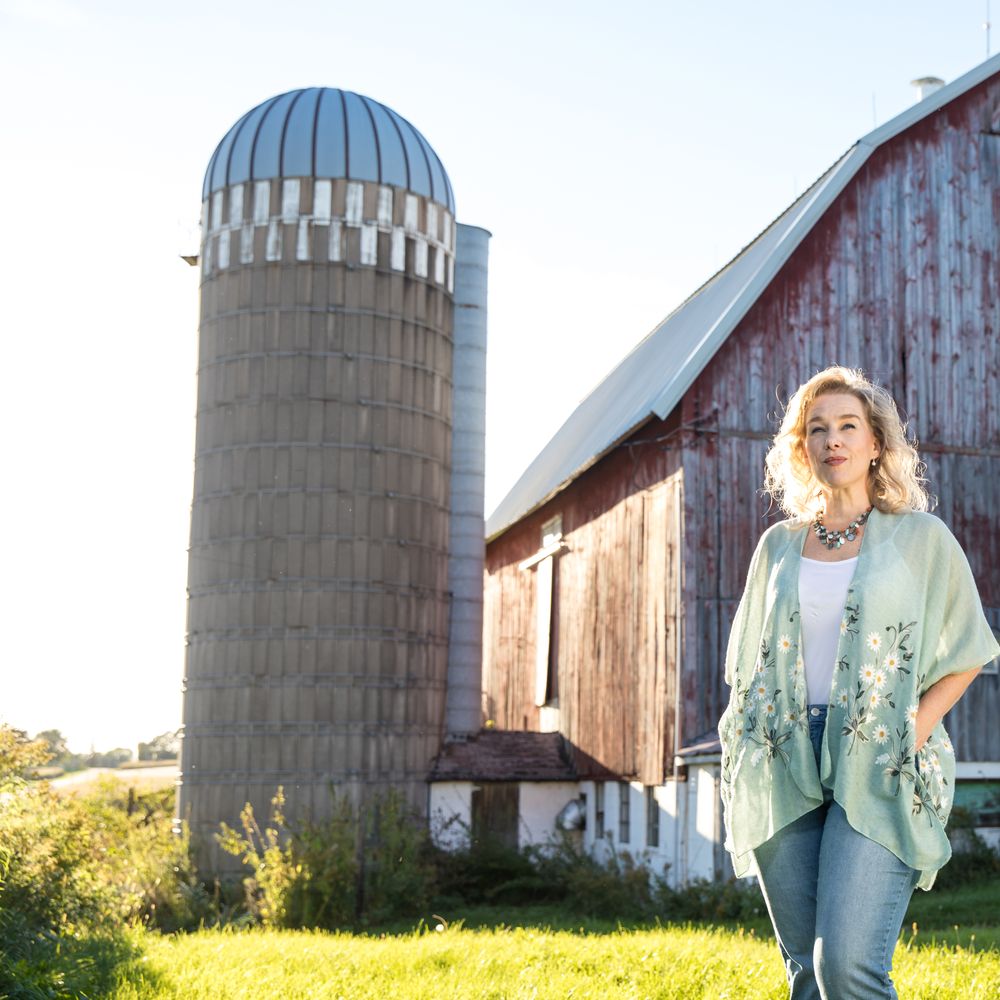 Photo credits: Dan Norman
Sheridan Zuther is an American jazz, Broadway, R&B, pop, gospel and opera singer/songwriter and producer. Her 2022 debut solo album Songs from the Silo is an extension of her original cabaret show that premiered in 2016.
Growing up on the vast North Dakota plains, she started piano lessons at 2½ years old. Her love of music led her to hours of singing in her farm's empty grain silo. Honing her performance skills, she climbed stacked haybales to sing for crowds of cows. At age 9, Sheridan's supportive parents drove 120 miles every week for her to take private voice lessons at Minot State University for the next eight years.
Her first job as a radio announcer on KHND AM at age 15 spurred her musical interest in a variety of genres, spinning records there the next five years. 
Sheridan went on to attend the University of Missouri-Kansas City (UMKC), Conservatory of Music, receiving honors with her B.M. in Vocal Performance-Opera. While in college, she discovered other outlets of musical entertainment that inspired her love of singing a range of genres, performing with variety dance bands around the state of North Dakota, in Kansas City and the Twin Cities.
After graduate studies at UMKC, in which she sang at Carnegie Hall, she moved to Minneapolis and starred in musical theatre productions at the Guthrie, Ordway Center, Pantages, Park Square, Bloomington Civic, Minneapolis Musical Theater, productions with the MN Orchestra, and was a frequent soloist with Robert Robinson's Twin Cities Community Gospel Choir. As an alumni of the Cabaret Conference at Yale University, she is one of the founding members of the Twin Cities Cabaret Artists Network, promoting public awareness and advancement of cabaret performance in the Twin Cities community.   
Sheridan performed full-time for seven years with the nationally-acclaimed vocal jazz quintet Five By Design, and thoroughly enjoyed touring and working as their Operations Manager as well as co-creating Five By Design's musical production Stay Tuned, which premiered in 2006 with the Arkansas Symphony. With Five By Design, she toured the continental U.S. and Canada averaging 210 days on the road, performing lush harmonies and swingin' rhythms with pop symphony orchestras and studio big bands, in conjunction with teaching vocal clinics and master classes in high schools and universities.    
As Associate Producer with Cardinal Theatricals, Sheridan co-produces large-scale musicals such as RENT and The Rocky Horror Show starring Don Shelby. In addition to serving as producer and band leader of her own shows, Sheridan continues to perform in musicals and sing with members of Five By Design, as well as with Beasley's Big Band and variety dance bands around the Twin Cities. Her singing is heard on jingles for corporate events along with TV, radio, internet commercials nationwide. Sheridan can also be seen in her home state of North Dakota during the summer months co-hosting the Medora Musical and the Medora Gospel Brunch, performing for over 120,000 audience members from all over the world.  
Sheridan is honored to teach voice at MacPhail School of Music as well as her home studio, vocal coach disabled artists at Interact Center for Visual and Performing Arts in St. Paul.  She recently served as guest artist and clinician at the University of Wisconsin-LaCrosse Vocal Jazz Festival and Eau Claire High School Jazz Festival (Wisconsin).  She has taught several vocal jazz and musical theatre summer sessions at International Music Camp at the Peace Gardens on the North Dakota/ Manitoba border, giving back to a wonderful art institution which she attended in her early teens studying saxophone, drama and creative writing.   
Listen to more of Sher on SoundCloud!