The vision for my album Songs from the Silo came to me during a long drive from Minneapolis back to my family farm in North Dakota. I realized that whenever I was lost, bruised, or broken in life, I always headed to our farm for solace and revival. It made me wish that everyone had a safe place to go when they had the weight of the world on their shoulders. Where I came from made me strong and resilient. We lived on the same farm as my grandparents, first-generation German-Russians who played as hard as they worked. My ancestors made it, and so will I. 
At 2½ years old, I started piano lessons with my Aunt Marie, and by the age of 3, I was making up songs on stacks of haybales, singing to an audience of Holstein cows. I quickly found an even better space that illuminated my voice – our grain silo that was empty in summer and fall. The acoustics from its tall concrete walls and tin dome were magical, and it was where I really discovered my love for new and different sounds. My voice is rooted in those formative years. 
After getting my opera degree, I enjoyed performing in musicals and finally landed a full-time touring gig with vocal jazz quintet Five By Design, swinging with big bands and pop symphony orchestras across the country. I was in my element! 
Ever meet someone you feel like you've known for lifetimes? That was Richie Cole, a gentle soul and extraordinary musician filled with stories of the jazz legends he played with. He started this recording project with me in May 2019 but passed away a year later. I'm sad he's not here to celebrate its release but I feel his presence. I love ya, Richie! 
Thankfully, Adi Yeshaya picked up Richie's reins, believing in my vision for this album. Adi's arrangements brought my stories to life, and he was the one who encouraged my "impossible" dream of recording in an actual silo. 
The paths I have taken stem from that single dirt road to our farm. I didn't always appreciate it, and sometimes was embarrassed by it. But as I grow a little older and hopefully a lot wiser, I respect it. Now the "safe place" is within me. In this music, I hope to share its comfort and spirit with you.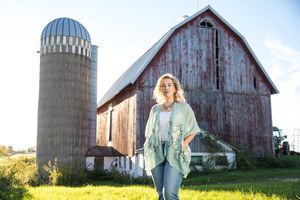 Debut album 'Songs from the Silo' now available!